Micron has just made an announcement in the media: It is starting bulk shipments of its latest SSD, the Micron 2400, which is not limited to the classic "2280" format.
Three capacities: 512GB, 1TB and… 2TB
In addition to this 22 x 80 millimeter format, the company is actively highlighting an M.2 2400 SSD in size "2242" (42mm length) and even "2230" (30mm length), the most compact size available.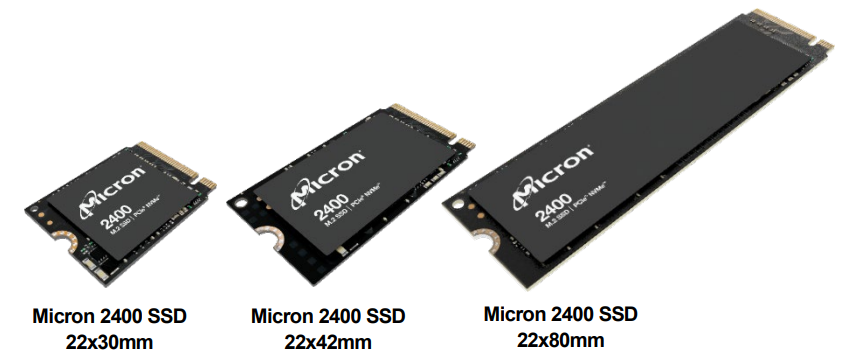 Even better, the manufacturer has managed to keep a huge capacity even in this very small format. Regardless of the length of the SSD, the Micron 2400 has three capacities: 512GB, 1TB or 2TB.
On a standard ATX motherboard, "2230" is usually reserved for Wi-Fi cards, but it's very interesting to rely on an SSD of this format in smaller solutions.
To achieve such compactness, Micron states that it uses QLC NAND flash memory with four data bits per cell on the 176 layers it associates a PCIe Gen 4 controller with.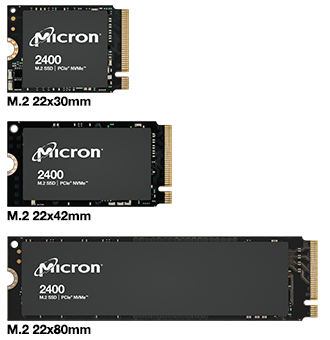 On the performance side, the manufacturer talks about more interesting speeds of 4.5GB/s in sequential read and 4GB/s in sequential write for the 2TB version. Endurance is displayed at 600 TBW.
Finally, Micron, which does not give an idea about the prices of its 2400 SSD, states that it consumes 50% less electricity than the previous generation.